At Smartslab Pty. Ltd. we are dedicated to providing our customers with first rate solutions. Our products create cost effective quality floors.
Background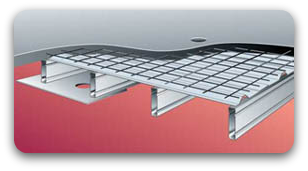 Smartslab is a lightweight suspended floor system comprising a steel frame that supports a solid concrete slab. Ideal for upper floors and sloping sites, Smartslab offers cost effective quality floors with inherent architectural utility and design flexibility. Smartslab Pty. Ltd. is the one-stop, complete service for the construction of these raised and suspended floors. The floors are supplied with all materials cut-to-length, marked and packed, and are accompanied by layout plans, engineering details and certification. Accredited frame assemblers and concreters install the floors.
Propping is generally not required because the structural frame supports the concrete mass. This means that after the floor is installed and poured, work can progress underneath it without obstruction and that work above the floor can commence within two days of pouring the concrete.
Seamless Integration
The concrete slab gives a solid feel to the floor, with the convenience of conventional joist construction. Services such as plumbing and air-conditioning ducts can be easily installed within the joist spaces and plasterboard can be fixed directly to the joists.
If structural steel beams are required to support the floor system, they can generally be concealed within the depth of the floor to maintain a flat ceiling.
SMART for builders
Economical yet highly Efficient
Up-front quote – know what it costs before you start
Easier to project manage – we can do it all
Faster building program
Perfect building platform
Ease of coordinating with other trades
No call backs for squeaky floors
Builders benefit with delighted customers
Customers are happy with assured capital gain