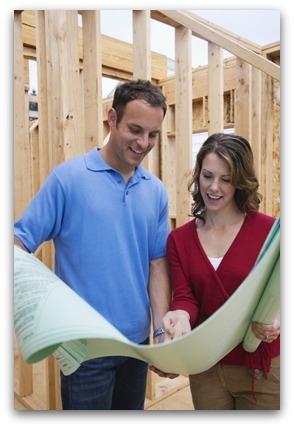 As a Home Buyer you will be aware that in Australia we enjoy a quality of house construction among the best in the world, offering excellent value and leadership in methods such as in Brick Veneer.
Mainstream construction evolves slowly but Australians do embrace new ideas when there is a genuine advantage. Over recent years we have seen the birth of a number of innovative methods of concrete floor construction in full brick construction. A leader in this has been 'Smartslab'. But Smartslab stands apart because of its unique ability to marry a concrete floor with Brick Veneer design in either timber or steel framed construction.
Smartslab uses a lightweight high strength galvanized steel frame with metal sheeting fixed to it so that when a concrete topping is applied the result is a very strong slab. Manufactured steel sections remain true to size to very exacting specifications and do not warp or twist, providing perfectly straight and stable structural members.
The steel frame is designed to carry the structural load and concrete provides the following desirable floor properties:
Sound resistance,
Thermal efficiency,
Durability,
Ease of fixing surfaces such as tiles,
Firmness,
Insect immunity, and
Non-combustibility.
In the case of an upper floor in a brick veneer home, the combination of Smartslab and timber or steel wall frame construction offers a cost effective way of building a modern energy efficient home today.
Smartslab is used in the following applications:
Elevated Suspended Concrete Ground Floors in Flood Prone areas.
Elevated Suspended Concrete Ground floors on Sloping Sites.
Upper Floors and Balconies in Full Brick Construction.
Upper Floors and Balconies in Brick Veneer Construction.
Suspended Concrete Roofs.
External raised Concrete Decks
The Smartslab Advantages
Construction
Quick and economic suspended concrete slab construction. A typical upper floor can be supplied and installed in less than 5 days.
A Quiet Home
Choose a quiet suspended concrete floor over a squeaky timber floor in Brick Veneer construction. Smartslab offers reduced noise transmission between the ground and upper floor and a value of Airborne Noise Transmission of 50 and an Impact Noise Resistance of 60 is easily achievable – resulting in a more peaceful home. You can also have a quiet concrete stair instead of a noisy chipboard stair in brick veneer construction.
The Thermal Mass Advantage
The Smartslab thermal mass advantage is an optional fully insulated suspended ground floor slab with Hydronic heating if required. This provides high thermal efficiencies with huge savings in energy consumption in warming your home. No more wasteful energy consumption through heat losses to the earth underneath a slab on ground.
Feature Floor
Our concrete flooring isn't just functional. You also have unparalleled flexibility in the design of your flooring, without the added expense of carpeting or tiling. You can have a fantastic natural looking floor with decorative and polished finishes.
Accessible Roof Decks
With the latest trends in roof top entertainment areas, and concealment for solar energy collection systems, Smartslab provides the most cost effective way of providing a flat concrete roof. The concrete roof is water-proofed and tiled to manufacturer's specifications.
Smartslab Deck
A Smartslab concrete deck will give you years of trouble free service. A Smartslab deck can be tiled, stencil-creted, or topped with coloured concrete or timber composite decking. So invest in a zero maintenance, long lasting deck for your next home.
Smartslab Protection
Another Smartslab advantage is the inherent protection and durability when wet area waterproofing failure occurs compared to timber floor construction that offers none.
Investment Potential
One of the more significant benefits for the homeowner is the return on investment because of the way in which concrete floors are highly regarded by future purchasers.
Smartslab P/L Director, Robin Golledge says,
"The system offers more choice and flexibility for Home Buyers in the design of modern home styles and the fully engineered and certified design, supply and installation services give great value to our clients."